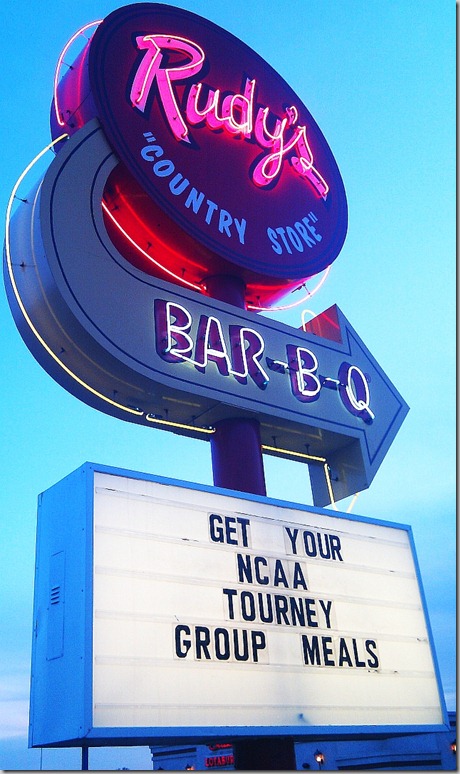 Barbeque places are a dime a dozen, meat, smoke, eat, repeat.  So what makes a good smokehouse?  Juicy meats, nice and smoky without overdoing it, a good sauce and an atmosphere that says, hey, it's just food, come on in, sit down with your neighbor and make sure to grab some napkins. 
Rudy's, located just off the freeway, across the street from the Hotel/Indoor Water park can't be missed with it's Bright Red Exterior.  
At first glance (or first couple dozen glances, because I've been here a LOT), you notice the sign on the side wall.  Now go back and actually READ the sign…I'll wait…   Now what in the world would cause a restaurant of any kind to advertise themselves as the worst of anything?  Surely this place can't be the worst, I mean if you advertised as such and it was true, wouldn't that mean you'd do no business?  Well there is a reason they are still open, so pay not attention to the wall before you, seriously, it's just weird.  
As you enter the place the first thing you notice is the line wrapped around a trough of sodas chilling in icy water.  Red and white are the colors of choice, as a lot of places have.  Didn't they do a study to say that color combination makes you hungry?  If it's not the colors it's definitely the smell.  Even driving by you can smell the sweet smoke of slow roasted meats.  Quite the selection, but I always get the same thing.  Turkey, Ham, potato, pudding.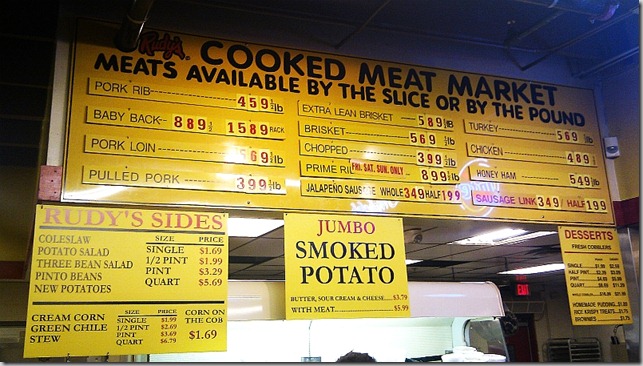 The potatoes are smoked and a nice dark brown color.  They are typically HUGE too.  It would be very easy to go there and just get a potato.  You can also get the potato loaded with your choice of meat, but I suggest you buy them separately and mix the two yourself.  Sour cream, butter, cheese, no bacon, no extra salt or black pepper.  The butter and cheese provides enough salt for the soft and fluffy interior of this smoky delight.  Just warm enough to melt all the cheese, just a hint of the smoke flavor helps bring out the potatoness of the potato.  It just tastes really natural.  I always plan on saving the skins, but by the time I'm done with the rest of the food, I feel the need for a nap and it never happens. 
Once upon a time I think I got the brisket, I remember not being a fan.  I'll try it again sometime, but then there's turkey.  Oh yay, turkey, that dry gravy soaking meat that you have at Thanksgiving.  It's a good thing my mom makes a good gravy because the turkey is always dry.  That's turkey, right?  WRONG.  This turkey is something else.  It's moist and succulent, amazingly flavorful (yeah, flavorful turkey) and probably the best thing I've ever had smoked. 
Once upon a time my parents had a smoker.  My favorite thing was the smoked turkey, which they very rarely did because outside of the 2 months at the end of the year, how often do you see turkey in the grocery store?  It was good, very very good, but sadly a distant memory, but I'm happy to say this turkey is as good as it comes. 
The ham is also smoked and it's amazing.  Salty and sweet, smoky like bacon, but meaty and juice.  Though today's batch had a fair vain of fat, it was easy enough to cut out.  The downside, you pay by the pound, so that was some expensive fat! 
There are sides, most of which are served in line in their chill chest.  Several of the options are desserts, which I'll get to
momentarily. With all the sides served family style, this is not a place you go on your own, unless you are just going for the potato.  It really deserves to be enjoyed with a large group of people at one of their large picnic type tables.  They serve a very good slightly spicy BBQ sauce on every table with salt and pepper in the old (cleaned out) beer bottles.  BTW, the turkey and the ham, do not need sauce.  I honestly think the sauce overpowers the turkey and serious, it's juicy turkey with a ton of flavor. 
  My sweet tooth is a-calling.  A simple dessert, pudding.  Whipped topping from a can and sprinkled with chocolate cookie crumbs.    The crumbs are also used inside the pudding to give a slight texture to the pudding, though when the chunks are large, they get soggy, it's somehow still good.  Well, how can you really go wrong with chocolate?  Only thing missing is an IV, but then again that would bypass your tongue, and that would be a shame. 
Every time I go to Rudy's, I eat too much.  Everything is full of flavor and tender, juicy bits of Barbeque heaven.  It's a chain in NM and TX, but they seem to do things right.  They are typically very consistent and have a wide selection of food for every taste, except maybe a vegetarian, unless you eat butter sour cream and cheese, then go get a potato.