So tell me this Albuquerque, why have I never had deep fried green chile before?  More on that in a moment.  Today's adventure was the new 5 Star Burgers Next to Whole Foods at Academy and Wyoming.  What's with all the 5 names all of a sudden?
I don't know when they opened, and I'm not sure where people are finding out about this place, but it was packed, like really really packed.  The tiny table in the corner was available, so we sat down immediately, good thing too as another rush of people shortly followed.  This, my friends, is a good sign. 
The Contemporary design is clean and simple, screaming of an elegant upscale gourmet froo froo place that specializes in stuff like miso-glazed sea bass with asparagus, or grilled lam chops with curried couscous and zucchini raita.  So here comes the standard red and white menu, designed to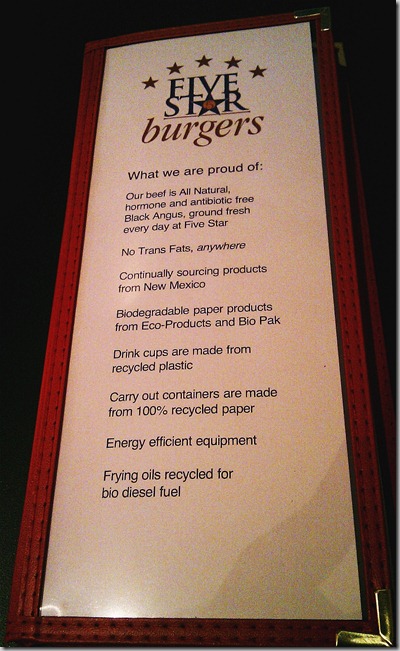 make the stomach grumble and what do my eyes spy?  Burgers.  Ok, they aren't just burgers, they are gourmet burgers with Gorganzola cheese and carmelized onions or crispy green chile and BBQ sauce.  You can substitute chicken and they also offer lamb and turkey burgers.  Salmon, steak and salads, fish sliders, is your mouth watering yet?  It's not a standard burger place, and seems to be designed for the picky LA Producer coming to Abq for their next film.  Don't worry my fellow New Mexicans, not only is the place local (based in Taos), but they have some great things for a more simple taste.  
The take great pride in their all natural beef, no trans fats, recycled materials and the green friendly options.  Wonder if they're going to be staring a biodiesel station out back?
The staff all moved with a sense of urgency and still had that new restaurant smell to go along with the new restaurant attitude.  "The burgers are awesome" our waiter said with an friendly and honest tone.  Sign me up!  You can't go to a burger place and not get a burger!  Especially the first time. 
So let's start with my girlfriend's meal of choice, the grilled cheese.  Now this isn't mom's grill rainbow bread with Velveeta.  This is a upscale fancied up grilled cheese on sourdough with cheddar, swiss (or in her case pepper jack), provolone, bacon and a Tomato Marmalade.  She gave me a bit and my first thought, "Woah that is sweet!"  The Tomato Marmalade is very sweet, but delicious in it's own right.  Slow the bacon kicks in and salt takes over the sweet.  The bread is perfectly toasted with just the right amount of butter and cheese. 
The marmalade is a little sweet for my taste, but maybe as for it easy on tomato (or a fresh tomato) and it's quite nice, if you like a grilled cheese.  The coleslaw on the side is also quite good, slightly different taste that I can't quite pick out. 
They serve fries and sweet potato fries, which any self proclaimed burger aficionado would claim as a requirement to go along with any decent burger, gourmet or not.  I like the presentation, served in a mini deep fry basket with parchment paper and a side of ketchup and mayonnaise and green chile mayonnaise.  Wait, don't you mean aioli?  This is a gourmet place after all, shouldn't they be serving Aioli?  NO, it's mayo damnit and thanks for noticing!  Oh and let me tell you, green chili mayo, makes everything they offer taste better. Fries, burger, napkin, salt shaker, the stuff is amazing.  The fries themselves however leave a little to be longing for.  They look feel and taste like fries sliced, frozen and bagged, shipped across the country.  They aren't bad, but nothing to get excited about. 
Now the burger, let's start with the picture shall we? 
I almost want to just leave it at that, but as a picture says  a thousand words, words say words too, so a talking I go.  I ordered the Taos Burger, crispy green chile, bbq sauce and cheddar.  I added bacon, as you are I am sure learning, bacon makes every burger in my opinion.  So that fried stuff under the bun, that's the deep fried "crispy green chile" and it just makes sense.  The bacon is crispy, the green chile is crispy, the bun is lightly toasted and soft, the patty, which sadly you cannot see, is thick, perfectly cooked and juicy.  Perfectly cooked for me is Medium well, get over it.  Medium well, by the way, is not easy to cook to correctly and they did. 
Ask for napkins, because when I say the burger is juice, I mean dripping down to your elbows.  The only real problem I had is by the time I got to the end of the burger, the bread was falling apart.  Juicy burger, bbq sauce ( and a touch of ketchup), green chile mayo, I mean the bread really doesn't stand a chance. 
A beautiful view out the window brings a wonderful ambiance to the place, even with the storm clouds a brewing.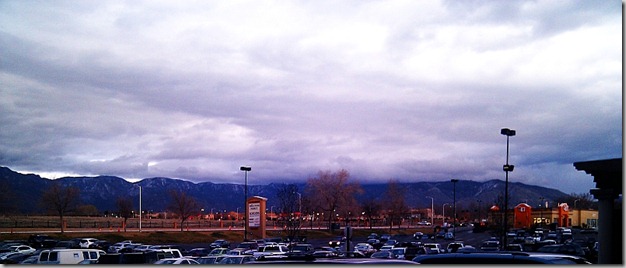 It's a good burger place and with plenty of options to get as fancy as you'd like (as long as you are not looking for fois gras).   Still reasonably priced, especially for the quality of food you are getting.  Just make sure you get the green chile mayo, it will add a nice little kick to anything you pick.  www.5starburgers.com