I've driven by the place before and thought, huh, I wonder what that is?  Every time I had that thought, I completely forgot the place existed until my Girlfriend reminded me and actually looked it up.  Then a friend of
mine at work said, "Hey, it's Open and it's really good!"  Ok, so there go my dinner plans, time to try a new place!  
We walk up and the place is packed, doesn't appear to be an empty seat in the house.  I've seen pictures online and they all appear to be the same layout.   White and red are the colors of the day!  And the sign says it all, burger and fries. 
The line is separated out with a giant stack of potatoes and strategically places boxes of peanuts.   It seems oddly placed, I mean a burger and fries joint with peanuts?  Cause when I think burgers, I think peanuts.  I did not see a single person in the entire building eating a peanut.  Everyone is chowing down on what appears to be a pretty damn good burger and some amazing looking fries.
All toppings are free, you get your choice of a regular burger, cheeseburger, bacon burger, bacon cheeseburger or little versions of each.  The difference?  The little ones have one fresh, never frozen patty, the regular burgers, have 2 all fresh, never frozen patties.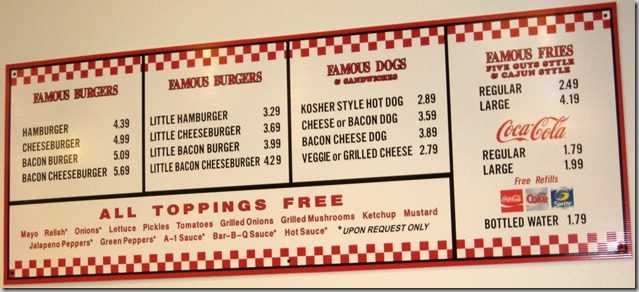 The staff was very helpful in giving you directions if you've never been there before.  You pick all your toppings, which are free to add and I was sad that after I placed my order, I look over and some them piling grilled onions on a burger and that was not one of the options I picked.  Most places have "grilled onions" that are slightly warmed, not really cooked.  These were carmelized so they were nice and dark on the outside without being soft slimy piles of mush.  Next time..next time..
Your choice of fries, cajun or regular and a very limited selection of drinks.  As we go around the corner to get our sodas, I was pleasantly surprised, 2 soda fountains with 8 selections each and hardly a duplicate amongst them.  Time for pictures!  Looking behind the counter was a mess of people running around, overcrowded, but somehow managing the dance in expert fashion.  People at the grill in the back, people wrapping burgers on the center table, off to the side making and seasoning fries, and gathering orders to give them to customer impatiently anticipating their one of a kind burger. 
Given time to look around the place, you notice all the signs on the wall.  Comments like, "The Best $5 Burger a Man Can Eat," "Tastiest Burgers In Town," "5 Guys Serves Heaven On A Bun."  It would appear they are very proud of their reviews.  Let's see if they'll quote me.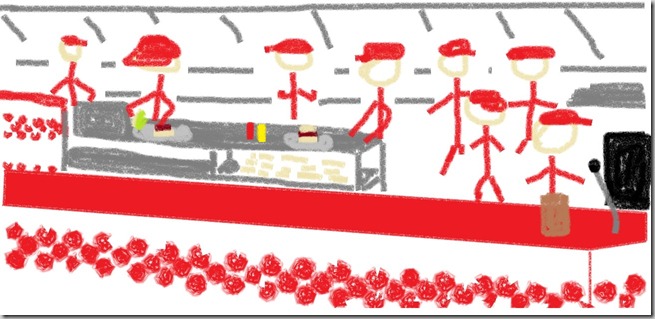 Ok, wait, something's not right here?  That picture looks a little…flat?  Ok, so I took a few pictures and walked up to the menu to get one last photo.  Very shortly after a nice lady with blonde hair walks up and asks if we were enjoying ourselves and waiting for our food?
"What's your number?" she asks.  "I'm sorry but we don't allow people to take pictures, it's against policy."  Um..what?  …  Ok, so I guess now I'll have to draw the experience to you.  PS, the above Menu picture is not mine, but I found several online that people have taken perhaps covertly.  Not wanting to get them in trouble, I only used a picture of the menu.  Maybe they want no proof they actually exist I guess.  Maybe they think we are stealing their souls?  I promise I'll give it back! 
So finally food time.  Begin covert operation of taking a damn picture of my damn food so
I can post it on my damn blog and give a  damn visual aid!   So here I am checking my text messages when magically my camera went off!  Oh, I'm sorry, but since it's here, I figure people might like to see the fries, which are amazing by the way.  These are not your typical fast food fries that are coated in a batter to make them crispy.  They are freshly cut, lightly salted, crispy on the outside and soft on the inside and hot.  DAMN They're hot!  Cajun style are also amazing, and not your typical cajun seasoning.  It's got an herbal flavor, not sure what it was, but I like it!  Spicier than most cajun fries and just as crisp as the 5 guys fries.  You can't tell from the cups, but they are huge, there is a ton of fries here.  On top of that, you should have seen the bag!  I would have taken a picture, but it's against policy and I had already checked the weather on my phone and sadly no random snapshot happened this time.  Let me just say, these cups were probably at least halfway overfull. 
With the second half of their namesake down, it's time for the main course.  So here it is, the 5 Guys Burger.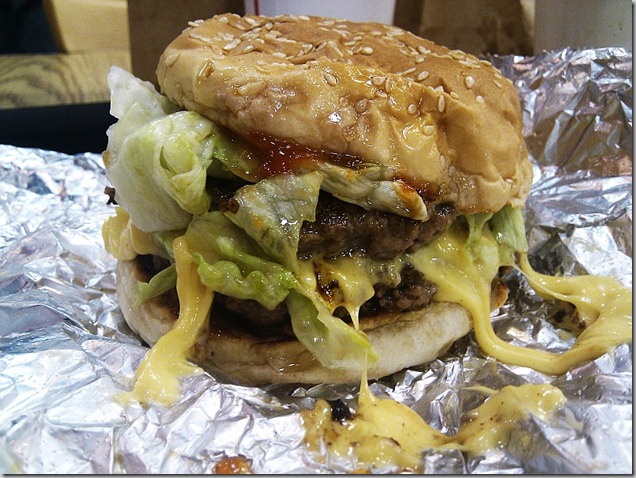 Looks promising, certainly cheesy.  First thing I notice when taking a bit, Mmmmm…crispy bacon.  I can't tell you how much I love bacon on a burger.  Unfortunately I can't say much more about the bacon because, though it imparted a great crunch, there wasn't as much flavor.  I'm not a cheese snob by any means.  Give me a good chunk of cheddar on my burger and I am happy.  I am not a fan, however, of American Cheese.  For some, it may remind you of your childhood, the grilled cheese your mom used to make.  Well my mom used Velveeta.  The cheese seemed to overwhelm the burger, with as much all fresh, never frozen meat there, I didn't really taste it much.  The bun was your standard store bought generic buns, which soak up the juice coming from the burger, making them nice and soggy. 
Don't get me wrong it's not a bad burger, there just doesn't seem much special about it.  Definitely go there for the fries, seriously, the fries are awesome.  Get a hot dog while you are there, or a burger, or if you REALLY like American cheese, get a cheeseburger.  It is fresh, and though the picture above may not look as appetizing as your photo they put in menus at Applebees, it's real.