A while back a friend of mine and I were driving down Juan Tabo, an unusual event as, at the time, neither one of us lived near that part of town anymore.  Much to our surprise we drove past what I can only call an eyesore of a building which used to be Popeye's Chicken.  Being a minor fan of Popeye's and now having one less opportunity to drive by and think, nah, not in the mood today, I was appalled by the brightly colored and tacky paint job on the building.  Only one solution, I took that moment to refuse to ever enter and/or support the business, with a name like "Fastino's," I'm not going to miss anything.
Then the other day, my mom asked me, "Hey, have you heard of that Fastino's place?  They are ALWAYS busy every time I drive by, are you going to review it?"  So this afternoon I went to Fastino's for dinner.
The mural on the wall looked familiar, then I noticed something on the sign I hadn't noticed before, "Fastino's by Saggio's."  Saggio's?  Really?  I like Saggio's.  Ok, there is hope.  Their menu is interesting, pizza of course, but also Cajun Lobster Ravioli, Veal Saltimboca, salads and wrapped breakfast sandwiches.  A list of desserts and I've completely forgotten about the tacky exterior, or I would have if not for the tacky interior, but lets not judge a restaurant by it's painter (a little late, but I am back-tracking here).
Pizza at a pizza place, it's got to be good.  I'm a fan of Saggio's, so I order the pizza and sure enough, if you remember Nunzios or have been to Saggios down by UNM, and liked it, you will like this place.  The price is certainly right, at a slice of pizza, Tuscano Pasta Salad and a large soda for 6 bucks, you could easily get two meals out of it.   The crust on the pizza is soft on the inside, but nice and crispy on the outside, a little doughy, a little crunchy, the pizza that I think of when I think of pizza.
The pasta salad is not your standard pasta salad and I am happy about that.  Perfectly al dente penne coated in a mix of olive oil, garlic, parmesan and herbs.  Cold and tossed with ripe tomatoes and broccoli and this is a bowl of flavor and texture that I can be completely happy with.
This was not the only thing on the menu I ordered.  I had to try the meatball baguette as well.  Most of the sandwiches are more of a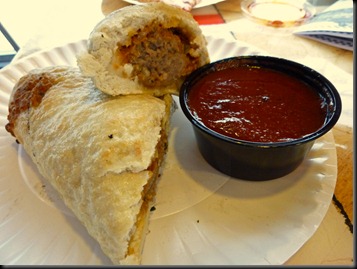 breakfast type loaf of bread with a stuffing in the middle.  This one has meatballs and mozzarella, baked inside a baguette type loaf and served with a side of sauce.   The flavor was good, though slightly undercooked, the dough was a little raw on the inside edges.  I only ate half so I could bring the rest home and solve the problem in my own oven.  The sauce is a a nice smooth marinara with a strong tomato flavor, just of enough spice.
The place is locally owned and operated.  A wide selection of options means you will be able to find something, even if you are a picky eater, like myself.  A list of desserts from Canoli to cheesecake will also satisfy the sweettooth.  Mine was solved earlier at a different place, but that review is coming next week. 
Oh yeah, the portions are quite large too.  My GF had the baked ziti, again perfectly cooked pasta mixed with a sauce made of marinara and a ricotta mixture was quite good, if you like ricotta.
This place advertises itself as a fast food Italian place and the description fits.  This is an order at the counter kinda place and certainly has a fast food vibe.  With the prices and the good quality of the food, it's a little easier to ignore the decor and is certainly a good choice for a good slice of pizza.