I have never come across a more aptly named place than Which Wich.  I highly suggest, the day before you go, check out their menu, figure out what you want to have because the selection process takes a while.  With over 50 Sandwiches to choose from, it's tough to decide.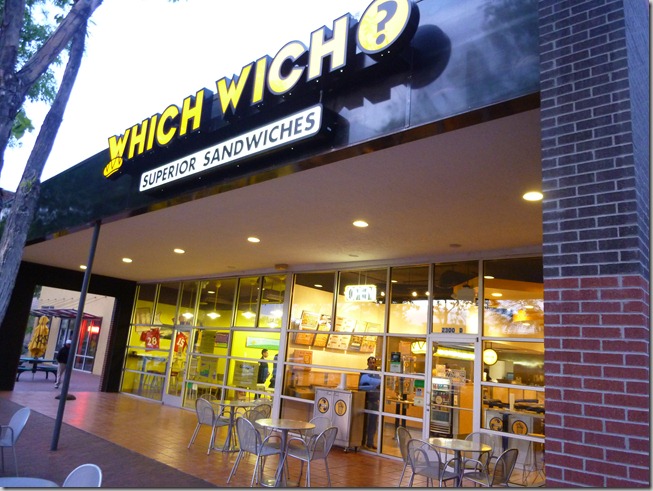 My friend Marcus invited me to dinner one night, and of course begins the debate, where to go?  Hey, have you ever been to Which Wich he asks?  No, what do they have?…Oh, right.  And thus begins my journey downtown to try a new chain restaurant.  Not really feeling like driving halfway across town just for a sandwich, of course I grab my camera and decide, we'll give it a go.
The conversation was a tad more extensive and involved some rather long winded convincing of my girlfriend, but eventually we get there and the ordering process begins.  This is not your standard menu, you don't walk up to a counter and say, "I want a number 6 with Dr Pepper."
There are 10 categories to chose from.  With everyting from Turkey to beef, Vegetarian to Seafood, Classics which include BLT, Club and Gyro, Italian includes Meatball and Muffuletta, the options are quite daunting.  Within each of the 10 categories are 5 sandwiches, and then a special of the week.
For me, the choice was easy, I'll have the Chicken Parma, no wait, the Club, or maybe the Bac-Hammon (Bacon and Ham), the Beef Cheesesteak!!!  Oh no, I see what I'm having, the French Dip.  How could pass up the Ultimate Beefy goodness?  The sandwich I got at every restaurant when I was in high school, the sandwich my friends would order for me before I even showed up?  That is what I will have.
So to place an order, you grab a bag.
Not just any bag, they are numbered. Choose your bag carefully, then it's time to choose your options.  You pick your sandwich type from the category, the type of break, cheese and then toppings.  If your sandwich sucks, you have no one to blame but yourself!  My girlfriend made the mistake of ordering the BLT, but didn't check the boxes for Lettuce or Tomato, so what did she get?  A loaf of bread full of bacon and a bit of melty cheese.  An order which they quickly remedied by explaining we assumed the L and T would be included, given the name.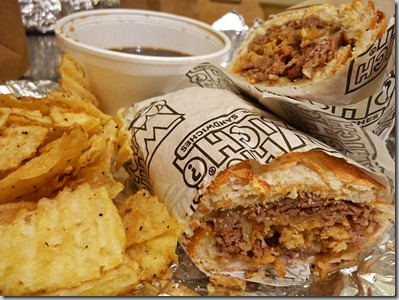 They give you what you want, so make sure to order it, even if you would assume it should be included.  I notice, out of the corner of my eye, Milkshakes.  What goes better with a sandwich than a milkshake?  So we sit and wait impatiently for our order.  My name is called, and out comes, in the bag you wrote your order on:
French Dip on Wheat, crispy onions with pepper jack, salt pepper and garlic oil. A cup of the Au Jus and a bag of their house made salt and pepper chips, it looks promising.  And I was not disappointed.  The bread was fresh, soft in the middle, but crisp all the way around.  The Au Jus wasn't even enough to completely soggy up this bread.  Such flavor I have not had, almost too much flavor actually.  A little heavy on the salt, but I was ok with that.  There is something to be said about a well made sandwich, you just can't beat it.
My girlfriend got the Gyro and she was pleasantly surprised.  A place like this which specializes in all different kinds of sandwiches, you'd expect that have a few that fall short.  I have not tried them all, not even close.  As a matter of fact, I have only tried a few sandwiches and they have all been excellent.
As good as the sandwiches are though, they also have milkshakes.  I am a huge fan of chocolate, but when it comes to ice cream, give me vanilla.  I don't know where they get their ice cream, but give me a bucket of it!  That's some of the best ice cream I've ever had.  So good in fact that every time I go, I take my camera with me.  Every time I get my camera out to take a picture, all that is left is an empty cup.
The last time I went, I had a vanilla malt and it was stupendous!  I took my family to this place for Father's day and am happy to report that everyone thoroughly enjoyed their sandwiches and shakes.  The best part, they have a buy 10 get one free deal, so I filled that card up quite rapidly and had a free sandwich waiting on my next trip.
With it's variety of options, nearly endless combination of selections, this place has hit very high on my top places to go for a sandwich.  The prices are reasonable and all the sandwiches cost the same, the portions are perfect, not overly huge, but certainly not skimpy.  With the option to get pretty much any sandwich you want, made any way you want it, this place is definitely worth the obscene half hour of driving around trying to find a parking place down by UNM.