The other nights asthma inducing windstorm reminded me of a night a couple of weeks ago.  My girlfriend's mother had come to town and it has become a tradition.  She invites my parents out to dinner and where do we go?  El Pinto.   It's not that she is a big fan of Mexican food as she is from Montana, a place not really thought about when you think of good Mexican food.  And before you start yelling at me stating El Pinto isn't Mexican food, it's NEW Mexican food, for the sake of having a few less words to write, I will just leave it as Mexican food and you can make the change in your head.  Deal?  Ok.
It had been a gorgeous day, though it was supposed to be a big ball a crap.  We were very lucky having gone to the zoo earlier that day, but the weather loomed on the horizon.  On to the food. 
Picking a favorite Mexican food place is like picking your favorite team.  When it comes down to it, they are all basically the same, a few variations here and there, and sometimes, even when you know they are crap, you still support them and are your favorite.  On the flip side, they can be really really good, but just something about them rubs you raw, you just don't like them. 
El Pinto is what I think of when I think of Mexican food.  The atmosphere is fantastic, the place is  enormous and the food is generally quite good.  They make some of my favorite Salsa, though the stuff you buy at the store in the jar isn't quite as good as the stuff at El Pinto.  It's nice and hot without being mind blowing (though that can be debated if you talk to my girlfriend's mother, or my girlfriend, but take that as you will, they are from Montana and aren't such the huge fans of hot).  I've had hotter salsa before, but that's not what this is about.  This is about the flavor.  And it's free, and they refill the basket too, a fact that most Mexican food places leave out, first one is free, then you have to pay?  Not here, if you can eat it, they will bring it.  Oh yeah, and the chips are homemade too.  Crispy, fresh, hot, it's a good way to start the meal.  Just make sure you save a little bit of salsa for the tacos, assuming you get tacos.  They also have quesadillas, and burgers, both of which would benefit from a nice scoop of the red stuff.
Speaking of Red stuff, I always order the #2, red and hot.  Oh, THAT's descriptive, mmm…that sounds good, let's all get a number 2 (sarcasm at myself).  Tamale, cheese enchilada and 2 rolled tacos.  Not being such a big fan of beans, I get the papitas…potatoes for you and me.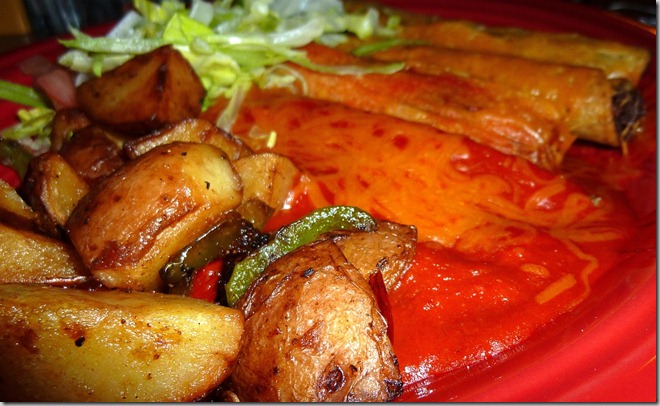 I usually order a side of Red chile as I smother my whole plate, but since my girlfriend always gets her's on the side, even though it's mild, I'll just use that.  Start with the papitas, soft inside, crispy outside, cooked with onions and peppers, dipped in a little of the red chile, now these are a good way to start  a meal.  The tacos, dipped in what is left of the salsa are super crispy and hot, covered in melty and slightly crispy cheese, they come in chicken and beef (though I always get beef, they are flavorful cigars of taconess.  Tamales aren't typically covered in red chile, but mine are.  A soft masa, also covered in cheese, though I think it's just because they were a bit judicious on my tacos.  The spicy pork inside is shredded and tender and I think a great ration between meet and masa.  I'm a huge fan of cheese enchiladas.  You can get a little extra heat from the sauce and still have it cooled off a little by the cheese.  The flavor is intense, garlicy and as much flavor as spice.
Let's talk about the heat for a second.  Now this is all very subjective, what one person finds about as spicy as a bell pepper, could be link drinking a can of sterno and striking up a match.  I like my spice flavorful and I have a reasonable tolerance.  I like medium taco sauce at Del Taco and Taco Bell because I find the hot just too hot for the flavor.  I like medium salsa, because as much as I like to have that little sweat across the forehead, I want to taste the rest of my dinner when I am done. 
And what do you do when you clean your plate?  You sit around and talk for a while because you are far too full for dessert.  It may not look like a lot of food at first, but it's enough.  My brother could probably plow through two plates as he is a big fan of food and has an insatiable appetite.  With that, there is still a basket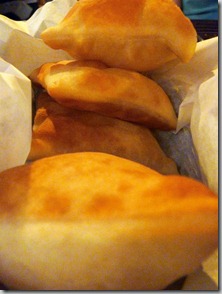 of Sopapillas on the table and there is no way we can let those go to waste.  I highly suggest you start your meal with them because after they have been sitting there for half an hour, they aren't nearly as tasty if they were freshly plucked from the fryer.   You may want to ask your bringer of food to hold off on the Sopapillas until the meal comes to an end.  Do yourself a favor and heed my warning as you will be far happier with a nice crispy, hot, fresh and steamy sopa than if you were to let them sit.  They are quite good even still.  Bite off the corner, fill the thing with honey (make sure you have your plate still) and devour. 
As we left the wind had picked up, I could tell because my asthma was killing me.   The Ristras violently thrashing around made it difficult to get a picture, but it's very much a big part of who they are.  The pictures line the wall of all the celebs and presidents who have walked under these red chile pods and enjoyed a meal at this local landmark.  It's not because it has a pretty entrance, it's not because the building is huge or has a nice bar.  It is because the food is good, damn good.  If you have your favorite place nailed down and you compare every salsa to the bowl they bring you when you sit down, it doesn't matter what I say here.  But if you are looking for some all around good Mexican food, a variety choices and a fantastic atmosphere, give it a go. 
Oh yeah, and don't let the lingering smell of Horse manure scare you away as you are walking in, the smell stops at the door.